No. 2/2022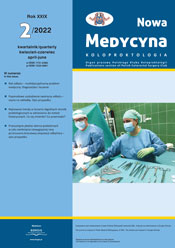 ---
N o w a M e d y c y n a 2/2022
---
Od Redaktora Naczelnego


Małgorzata Kołodziejczak s. 45
Editorial by the Editor-in-Chief


Małgorzata Kołodziejczak s. 46
Prace poglądowe
Review papers
Rak odbytu – multidyscyplinarny problem medyczny. Diagnostyka i leczenie


Anal cancer – a multidisciplinary medical challenge. Diagnosis and treatment
Daria Marcinkowska, Sławomir Glinkowski, Michał Spych s. 49-57
Najnowsze trendy w leczeniu łagodnych chorób proktologicznych w odniesieniu do metod historycznych. Co się zmieniło? Co przetrwało?


Recent trends in the treatment of benign proctological diseases in relation to historical methods. What has changed? What has survived?
Małgorzata Kołodziejczak, Przemysław Ciesielski s. 58-69
Opisy przypadków
Case reports
Poporodowe uszkodzenie zwieraczy odbytu – szycie na zakładkę. Opis przypadku


Postpartum anal sphincter injury – overlap suturing. Case report
Szymon Głowacki, Katarzyna Krasińska, Alesia Venhura, Zbigniew Białczak s. 70-73
Przesunięcie płatów skórno-podskórnych w celu zamknięcia niewygojonej rany po brzuszno-kroczowej amputacji odbytnicy – opis przypadku


Displacement of dermal-subcutaneous flaps to close an unhealed wound after abdominoperineal rectal amputation – a case report
Paweł Dutkiewicz, Marek Mazurek s. 74-78
---
Do korzystania w granicach dozwolonego użytku prywatnego.